Earlier this year, I had the pleasure to work with Stylist Priscilla L'Anson, Photographer Daniel Garriga, and the creative team at ELITE Photography and Electric Sekki to help shoot an A/W '11 campaign titled, Les Artistes, themed around the Hong Kong's Creatives, of which a sneak preview was released in the South China Morning Post's STYLE Magazine for September 2011.
RELATED ARTICLE: Les Artistes Preview
At the shoot, my friend Omar Khan of the Omar Khan Collective and I were able to meet new faces; some of which I was able to really be good friends with (SUPERWOWOMG's Denise Lai) and others I would love to know more (DJ Eve Speciall and CINDIDDY) for example. Of course everyone has been really busy with their own personal projects. CINDIDDY has been off to represent ELLE and NOKIA at this year's New York Fashion Week (#NYFW) and DJ Eve has been back to Australia for a much needed rest.
(via FASHION HEDONISM)
Christing C. on the other hand, pictured above with Omar and Me, I didn't really become friends with until much later because let's face it, during the shoot she didn't say much and she looked really intimidating. Later on of course, I found out she was just really shy. Which explains why her photos on her own fashion blog, FASHION HEDONISM, she doesn't look straight at the camera, but looks every where else. I told her that people may find her intimidating and some may think she looks like a "bitch" (haha), which as I know now is way opposite of her actual personally which is friendly, personable, thoughtful, and quite matter-of-fact, bubbly.
(via FASHION HEDONISM)
As it turned out, Christing C. with the help of her husband, Daniel Haddad, and her brother, Tim Chang, had been hard at work all along with a new project, catapulting her brand beyond the FASHION HEDONISM website and into the world of retail via an intimate styling/workshop studio in the heart of Central's fashion boutique street on Wellington (right next to the Office of Metropolitan Architecture) and simultaneously on the web as an e-boutique via CHRISTINGC.com.
Now those thousands of Christing C. fans (yes I said thousands) all over the world and especially Asia, can now dress like her and wear her favorite labels, cuts, clothes, and designers, by purchasing from shop or the e-store, all dresses and accessories handpicked by Christing C. herself as if it was for her own boudoir.
After the grand opening of her actual store in Hong Kong, we were able to sit down with Christing and ask her about her shop and her thoughts on turning a "hobby" into an actual business, as well as relocating from London to her new base here in Asia.
——————————
W+: ChristingC. Tell us what inspired you to open your first boutique in HK? and how has your family helped you out with the business?
CC: My fashion blog, Fashion Hedonism, is definitely what inspired me to open my boutique. After blogging for two years, I have come across so many inspiring young designers who are dedicated to the art and always right on trend. They have started getting a lot of attention in Australia, U.S., and Europe but I noticed a lack of exposure for these brands each time I visited Hong Kong.  I wanted to stock designers that produce great quality, that are fun and trendy, but may not be a well known label.
My family has helped me immensely.  Both my husband and brother are always by my side. My brother is my official creative director. He does everything from photographing the advertisements and lookbooks to designing our showroom space. My husband handles anything financial and manages our online store. All three of us collaborate on day to day decisions and it helps that we actually enjoy spending this much time together. 
The Lookbook for Christing C. was shot at HK's famous speakeasy, Senses 99 by her brother Tim Chang. The Taiwanese Girl Pop group, ROOMIE, modelled for the shoot.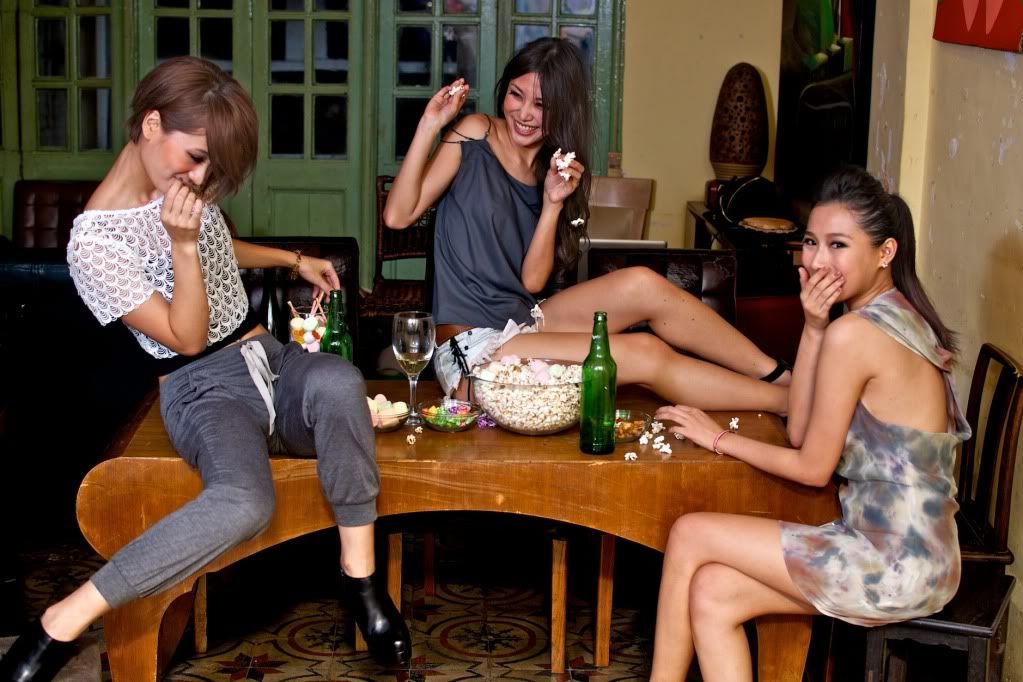 W+: I've seen you in all kinds of parties and events making huge waves  in HK. From shoots at Electric Sekki to Chopard last night. What do you do for nightlife and who are the boys that make up your entourage?
CC: I have always been a night owl and never turn down a party.  We love going to anything from fashion events and nightclubs to random off-beat bars (like Senses 99). My brother, Tim, and husband, Dan, are basically out with me every night.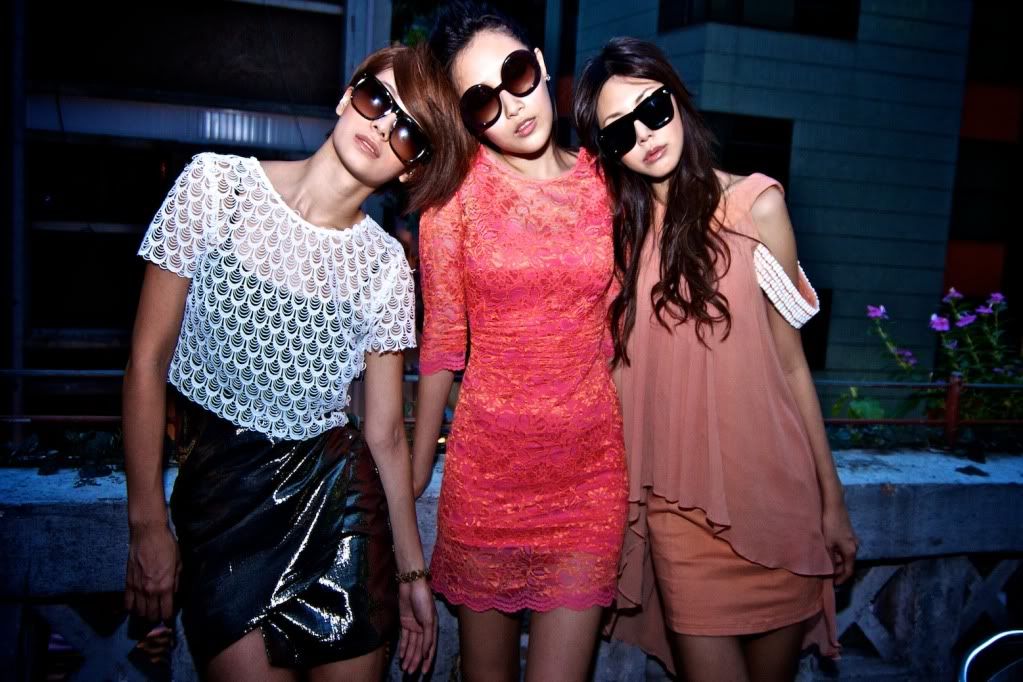 W+: What do you think of Hong Kong versus other cities you lived in, and HK fashion and style in general?
CC: I have lived here for less than a year, so I'm still learning about the city everyday.  I have lived in a lot of big cities though, and Hong Kong is definitely the busiest.  People are constantly on the go and everyone has a million projects going on at the same time. It's a very inspiring and motivating atmosphere. I love the diversity here and feeling of east meets west. I have lived in Europe for so long, when one culture pretty much dominates the entire city. In Hong Kong you get such a variety of cuisines, art, and nightlife. Things vary from being seriously cheap to incredibly expensive.
Fashion in Hong Kong can be very label oriented.  Women love their designer bags and shoes here and on the other side of the spectrum there are those who love the cheap local boutiques or H&M. I just moved over from London and am used to the more high and low styling where you wear a Primark (cheap UK chain store) dress and pair it with a Chanel bag. I guess here you kind of know what you like and stick to it.  I have also noticed a huge Japanese influence which really interests me. I love Vivi magazine and have discovered so many amazing Japanese brands, such as Moussy and Sly.
W+: What brands do you carry at your shop? Tell us what kind of woman would shop at your store?
CC:  We carry trendy womenswear brands from Australia, Sweden, and the United States. Aje, Ellery, Stolen Girlfriends Club, Bec & Bridge, Maurie & Eve, Mara Hoffman, Bodkin, Society for Rational Dress, Kain, ManiaMania, Carin Wester, Rachel Gilbert, Paper Crown and Bones and Feathers.
I would like to think the Christing C. girl likes to play with fashion and doesn't take herself too seriously. She appreciates quality, follows the trends, but always adapts it to her own style.  Her worst nightmare would be showing up in the same dress as another girl.
W+: Tell us about your blog, FASHION HEDONISM. Who reads it? What it's about? And where do think you'll go from here with your website?
CC: My blog was just a place where I could share my style, thoughts, and day to day activities.  I post what I wear, eat, and where I am.  It's an exaggerated diary of my life.  I guess girls like me or relate to me read my blog. I can get quite personal so when I run into a reader they often feel like they know me very well. My blog used to be based out of my neighborhood in Notting Hill and a real London feel.  I'm going to try to do the same here in Hong Kong and show more of the city and my favourite places in the city through my blog.
Christing C. partying it up at Square Street's Streetparty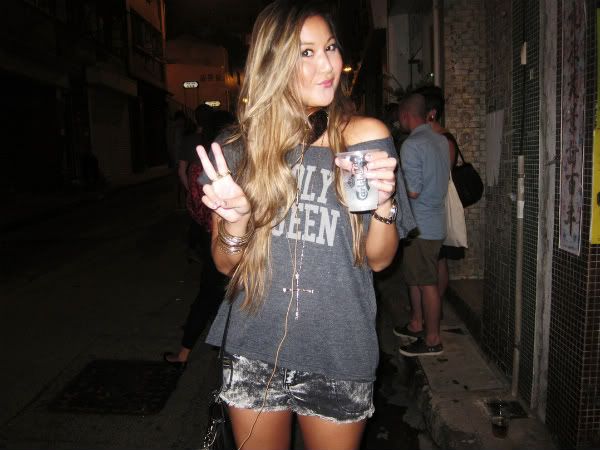 (via FASHION HEDONISM)
——————————
The opening in Hong Kong attracted over a hundred guests from family, friends, and close supporters, including those of us in the #HKFashionBloggers group. Here are a few photos from that night.
Flowers Welcoming Guests
Guests arrive, like Sybil for the Style Voyager and Samantha Wong of SAM is Home.
Cupcakes and Champagne were served the night of, which was basically my dinner that night.
DRESSMEBLOG's Jasmine and Foster+Partner's Khan-Linh.
Christing's brother Tim, and HKHQ.tv's Boris.
Priscilla L'Anson and Adeline of Pretty Lil' Things
Tania from TLikeBubbleTea and Samantha
Sisters, Natasha and Denise Lai
Someone modelling a piece from the collection
Rachel from Christing C. Boutique wearing another piece from the collection
A Pair and A Spare's Geneva, a D.I.Y. Fashion Blog
Tania and CINDIDDY, now enjoying New York Fashion Week.
Christing C. and Me
Congratulations on your new endeavor!
Christing C Boutique / 31F, 13 Wyndham Street, Hong Kong / 53708128 / Tue-Thurs 4-8pm Fri-Sat 2-8pm By Appointment Sunday and Monday
http://christingc.com / Christing C. on Facebook / Free Same Day Delivery in Hong Kong and Free Shipping Worldwide
theWanderlister+ Asia Readers get 15% Off at the Boutique in Hong Kong, just mention discount code "WANDERLISTER" at Check Out
JJ.
All comments moderated. To get more info on comment moderation for this personal blog project, please visit http://www.wanderlister.com/DISCLAIMER