Two weeks ago, a group of us were invited to go to the newly opened Asia Society Hong Kong Center by Tod Williams and Billie Tsien Architects in Admiralty to check out its just-launched signature restaurant and bar, aptly named AMMO.
I've posted about the new Asia Society museum on this blog before, and what makes this building uniquely different from other new museums of its class is that the building is set deep within an actual urban jungle, a lush green heritage site of a former explosives magazine compound from the mid-19th century (hence the name.)
AMMO, a slang term of ammunition, is a supposed acronym for "Asia, Modern, Museum, and Original", all the concept notes utilized by chef and restauranteur Tony Cheng and interior designer Joyce Wang of WANG, a boutique design practice fresh off its renovation of the historic Hollywood Roosevelt Hotel in LA.
Of course it's all about the marriage of East and West thematically from the food (ie. Cuttlefish Cappuccino, my favorite), to the cocktails (Kiwi Basil Martini), and of course the interiors, a lush sci-fi inspired stage made of Hong Kong style copper plumbing pipes.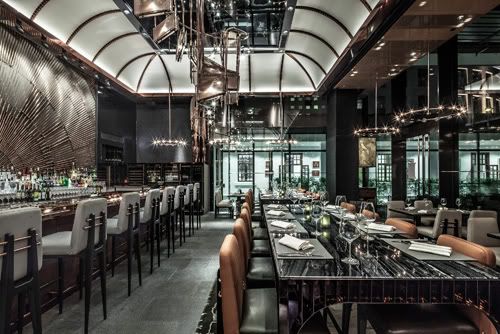 We had a quick chat with Joyce Wang at the AMMO launch and she explained to us the concept of her design, and pointed out how most of the elements that made the wall and ceiling fixtures were indeed made of these copper plumbing pipes and fixed together with general attachments for pipes found in Hardware Stores. She was laughing about how it took a while to convince the contractor that while the ideas may be unconventional and new, it's quite easy to put together in the end.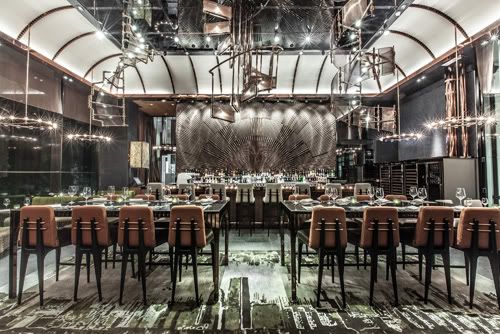 Each of the feature light fixtures represent a component of a spiral staircase, and there are three of them; the risers, the steps, and the handrail. I can only imagine what the contractor must have felt after receiving the drawings for the first time. :)
The bespoke furniture is luxurious. Plush sofa seats surround the glass box restaurant, with every seat having a great view of the lush tropical environment around it. Two large counter tables are situated in the middle of the room with plenty of bar stools, making it hospitable for large groups of friends, or to share with someone new.
Much of our preview snacks "Tapa Bite" versions of menu dishes paired with signature cocktails. I thought the drinks were quite good, but I wouldn't say I've had enough of the Tapas to really make a judgement of the food… however I enjoyed the Braised Angus Oxtail and Oxtail Meatballs which I found juicy and tasty.
A few of of my Instagram Images from that night… one of the custom light sculptures from below.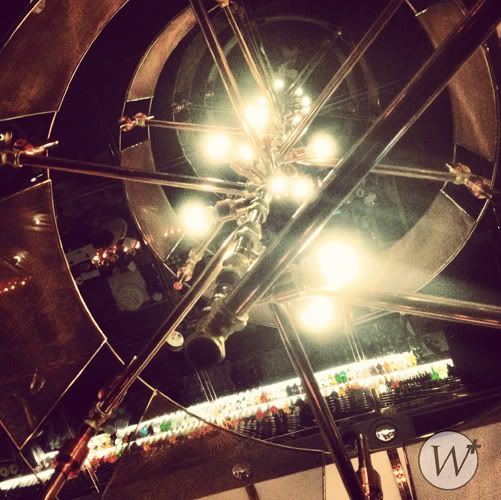 Friends checking out AMMO with me; designer RonWan, and Lifestyle Asia's Andy aka. Misteryeo. Check out what i'm wearing around my neck…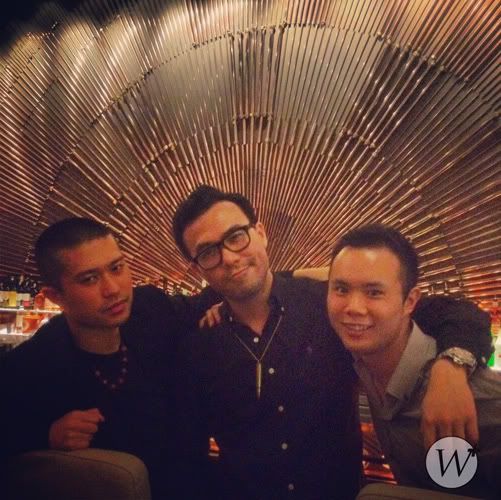 An "AMMO" USB Stick!
Fashyon.
AMMO at Asia Society Hong Kong Center / 9 Justice Drive, Admiralty, HK /
TEL: +852 2537 9888 / HOURS: 11:30a.m-12:00a.m (Sunday to Thursday) 11:30a.m-01:00a.m (Friday, Saturday and day before public holiday)
JJ.